RECIPES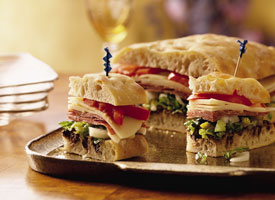 Milano Ciabatta Sandwich
Hearty Italian-style sandwich slices boast a trio of colors and flavors.
Prep Time:15 min
Start to Finish:15 min
Makes:16 servings
1 loaf (1 pound) unsliced rustic ciabatta bread
1/2 cup kalamata olive tapenade
2 cups shredded romaine lettuce
1/4 large sweet onion, sliced (1 cup)
8 ounces sliced salami
8 ounces sliced provolone cheese
2 medium tomatoes, sliced

1. Cut bread horizontally in half. Spread tapenade over bottom half of bread; top with lettuce. Layer onion, salami, cheese and tomatoes on lettuce. Add top of loaf.

2. Cut sandwich into 16 pieces.

How-To
Let guests make their own sandwiches! Place small bowl of olive tapenade in the center of a large platter. Arrange tomato and onion slices around the bowl, and arrange lettuce, salami and cheese around edge of platter. Place sliced bread in a basket.

Special Touch
Place party pick in each sandwich and arrange on a platter. Garnish platter with a radicchio leaf filled with olives or fresh herbs.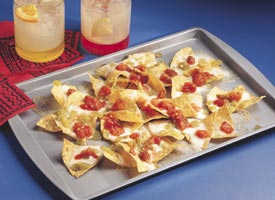 Nachos

The ultimate in no-brainer nachos!
Prep Time:5 min
Start to Finish:10 min
Makes:4 servings

28 tortilla chips
1 cup shredded Monterey Jack or Cheddar cheese (4 ounces)
1/4 cup Old El Paso® chopped green chiles, if desired
1/4 cup Old El Paso® salsa (any variety)

1. Heat oven to 400º F. Line cookie sheet with aluminum foil.

2. Place tortilla chips on cookie sheet. Sprinkle with cheese and chilies.

3. Bake about 4 minutes or until cheese is melted. Top with salsa. Serve hot.

Special Touch
Red or blue tortilla chips, often available in the organic section of your local market, add a colorful twist to this recipe.

Substitution
Pump up the heat with a can of hot chopped green chilies.

Time Saver
To microwave each serving, arrange 7 tortilla chips in a circle on a microwavable paper plate. Sprinkle 1/4 cup of the cheese over chips. Sprinkle with 1 tablespoon green chilies. Microwave uncovered on High 20 to 30 seconds or until cheese is melted. Top with 1 tablespoon salsa.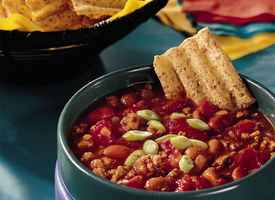 Slow Cooker Chili

Hang on to your hat, cowboy! This hearty chili blends chunks of real steak, tomato and authentic Southwest chili seasonings.
Prep Time:15 min
Start to Finish:7 hr 30 min
Makes:8 servings

1 pound beef boneless round steak, cut into 1/2-inch pieces
1 large onion, chopped (1 cup)
2 medium celery stalks, cut into 1/2-inch pieces
1 can (28 oz) Progresso® diced tomatoes, undrained
1 can (15 ounces) tomato sauce
3 teaspoons chili powder
2 teaspoons ground cumin
1/4 teaspoon dried oregano leaves
1/4 teaspoon ground cinnamon
1 medium bell pepper, cut into 1-inch pieces (1 cup)
1 can (19 oz) Progresso® red kidney beans, drained, rinsed
Shredded Cheddar cheese, if desired

1. Mix all ingredients except bell pepper, beans and cheese in 3 1/2- to 4-quart slow cooker.

2. Cover and cook on low heat setting 6 to 7 hours or until beef and vegetables are tender.

3. Stir in bell pepper and beans. Uncover and cook on high heat setting about 15 minutes or until slightly thickened. Serve with cheese.
Note: This recipe was tested in slow cookers with heating elements in the side and bottom of the cooker, not in cookers that stand only on a heated base. For slow cookers with just a heated base, follow the manufacturer's directions for layering ingredients and choosing a temperature.
(Total time will vary with appliance and setting.)

Special Touch
Add some zip to your serving bowls by brushing the edges of the bowls with shortening, butter or margarine then sprinkle with chili powder.
Substitution
You can also use a 28-ounce can of whole tomatoes instead of the diced tomatoes. Use a spoon to break up the whole tomatoes in the slow cooker.
Variation
If you like chili with a little kick, stir in 1/4 teaspoon ground red pepper (cayenne) with the cinnamon.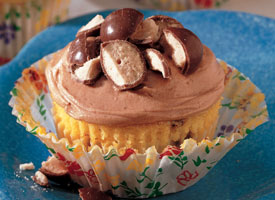 Malted Milk Ball Cupcakes

Get the classic taste of malted milk balls baked into a convenient little cupcake package.
Prep Time:25 min
Start to Finish:1 hr 10 min
Makes:24 cupcakes

Cupcakes
1 box Betty Crocker® SuperMoist® yellow cake mix
1 cup malted milk balls, coarsely crushed
1/4 cup natural-flavor malted milk powder
Water, vegetable oil and eggs called for on cake mix box

Malted Milk Frosting
1/4 cup butter or margarine, softened
2 cups powdered sugar
2 tablespoons natural-flavor malted milk powder
1 tablespoon unsweetened baking cocoa
2 tablespoons milk
Garnish
1 2/3 cups malted milk balls, coarsely crushed

1. Heat oven to 350°F (325°F for dark or nonstick pan). Place paper baking cup in each of 24 regular-size muffin cups.

2. In large bowl, stir together dry cake mix, 1 cup malted milk balls and 1/4 cup malted milk powder. Add water, oil and eggs. Beat with electric mixer on low speed 2 minutes. Divide batter evenly among muffin cups.

3. Bake 21 to 26 minutes or until toothpick inserted in center comes out clean. Cool 10 minutes; remove from pan. Cool completely, about 1 hour.

4. In medium bowl, beat frosting ingredients on medium speed until smooth. Frost cupcakes. Sprinkle with 1 2/3 cups malted milk balls. Store loosely covered.

High Altitude (3500-6500 ft): Add 2 tablespoons all-purpose flour to dry cake mix. Bake 20 to 25 minutes.
Makes 30 cupcakes.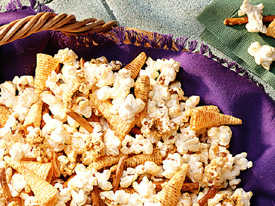 Southwest Snack

Go ahead and munch! This smart snack uses fat-free popcorn and pretzel sticks and low-fat Baked Bugles® to make snacking a pure pleasure.
Prep Time:15 min
Start to Finish:25 min
Makes:32 cups snack

2 bags Pop•Secret® 94% Fat Free microwave popcorn (any flavor), popped (24 cups)
6 cups Baked Bugles® Cheddar flavor corn snacks
2 cups fat-free pretzel sticks
2 tablespoons reduced-fat margarine-type product, melted
1 teaspoon chili powder
1/2 teaspoon ground cumin
1/2 teaspoon garlic powder
1/4 cup grated Parmesan cheese

1. Heat oven to 300ºF. Remove and discard unpopped kernels from popped popcorn.

2. Divide popcorn, corn snacks and pretzels between two 2-gallon plastic food-storage bags.

3. Mix margarine-type product, chili powder, cumin and garlic powder; pour over mixture in bags. Seal bags; shake to coat. Sprinkle with cheese. Seal bags; shake to coat.

4. Pour mixture into two ungreased rectangular pans, 13x9x2 inches.

5. Bake 10 minutes; cool. Store in airtight container
Do-Ahead Tip
Planning a large party or get-together? Double this recipe. It can be made several days in advance and stored in airtight containers until the big event.

Special Touch
Love the Southwest? Fun and interesting chili-shaped and Southwest-style serving bowls and platters are becoming popular and widely available. They're an excellent way to display and serve your Southwest Snack.