Run for the Roses Celebration

Celebrate what's been labeled the greatest two minutes in sports, the Kentucky Derby. The race may not last long, but who says the party has to stop? With this great menu and fun activities, you can be the jockey, trainer and owner of your derby party. Run for those roses!

Great Ideas to Make It Special!

At-the-Gate Invitations
The Kentucky Derby is always the first Saturday in May.


Check your local TV schedule for the exact time of the Run for the Roses. Plan your party around that time, serving dinner either before or after.


Add horse, horseshoe or rose stickers to purchased invitations, or make invitations using computer clipart.


Rosy Derby Decorations
Buy bulk roses--as many as you dare--to fill vases throughout your party area. Or place single red roses in several locations. They can be great mementos for party goers, as well.


A collection of derby memorabilia makes great centerpiece material. Or if the memorabilia isn't readily available, check travel agents or stores for posters. Learn more about the Kentucky Derby at www.kentuckyderby.com and the Kentucky Derby Festival at www.kdf.org.


Made-to-scale horses, available at toy stores, can be used in centerpieces or arranged next to the vases of roses.


If you show horses, this is your chance to display your ribbons, photos and medals. Jockey silks, saddles and other tack make good decorations, too.


Off-to-the-Races Activities

Thoroughbred Fun
Pin the name of a race contender (or use famous winners) on the back of each guest. Party goers have to guess who they are by asking questions of other guests.


Hold a lively discussion of the horses, jockeys or trainers. Do your homework, and have an official program available for referral.


Play Pin the Tail on the Thoroughbred. It's the classic game of Pin the Tail on the Donkey with a Kentucky twist! Pin an enlarged photocopy of a horse on a wall for the target.


Party On
Viewing the two-minute race is important. A large-screen TV is helpful, or consider having several TVs for easier viewing.


Be sure to gather everyone just before the big race on TV to sing "My Old Kentucky Home" along with the huge crowd gathered in Kentucky! Or play a CD or tape.


Host a hat contest; be sure to include it in the "dress code" section of your party invitation. Have camera in hand to capture this fun event. Or include hat making as an activity! Provide wrapping paper and newspapers to shape into hats, with glue guns and tape to secure.


Decorate hats with ribbon, buttons, beads and dried flowers.


Offer Extra-Special Mementos

You'll want to order these well ahead of race day.

Derby glasses, the decorative glasses in which mint juleps are sold at Churchill Downs, are available through mail order or Internet sales.


An official Kentucky Derby program (similar to the program or the exact program sold at the track on Derby Day). It will help your guests follow the race.

Rosy Food Presentation
Garnish Parmesan Cheese Ball with tomato flowers to resemble roses.

Make Starry Ice Beverage Coolerfor serving Mint Juleps or lemonade. Use mint for the herbs and roses (or rose petals) for the cranberries. Use this same ice idea for making bowls to hold fresh strawberries or asparagus spears.

Preparation Guide

Up to 2 Months Before
Make Butter Biscuits store tightly covered in freezer.

Up to 1 Month Ahead
Make Chocolate-Bourbon Balls (These are best made at least 4 days ahead.)


Up to 2 Days Before
Make Parmesan Cheese Ball and shape into a horseshoe shape; store tightly covered in refrigerator.


Make Tangy Poppy Seed Dressing for Strawberry-Jicama Toss; store tightly covered in refrigerator.


The Day Before
Make Cucumber-Dill Mousse store covered in mold in refrigerator.


Make Cheesy Grits up to the point of baking; store covered in the refrigerator.


Make Asparagus Vinaigrette store covered in refrigerator.


Prepare fruits and veggies for Strawberry-Jicama Toss store separately and tightly covered in refrigerator.


Make Kentucky Pecan Pie store covered in refrigerator.


About 3 Hours Before Serving
Bake Ham with Brown Sugar Glaze

The Morning Of
Unmold mousse onto serving platter; store covered in refrigerator.


Make White Chocolate-Dipped Strawberries


About 1 Hour Before Guest Arrive
Bake Cheesy Grits.


Remove biscuits from freezer.


When Guest Arrive
Serve beverages and appetizers.


About 15 Minutes Before Serving the Meal
Heat biscuits in aluminum foil at 400°F for about 5 minutes or until warm.


Just Before Serving the Meal
Complete Strawberry-Jicama Toss.
Run for the Roses Celebration Menu


Lemonade with fresh mint*
Parmesan Cheese Ball

Cucumber-Dill Mousse

Baked Ham with Brown Sugar Glaze

Cheesy Grits

Asparagus Vinaigrette

Strawberry-Jicama Toss

Butter Biscuits

Kentucky Pecan Pie

White Chocolate-Dipped Strawberries

Chocolate-Bourbon Balls

Coffee*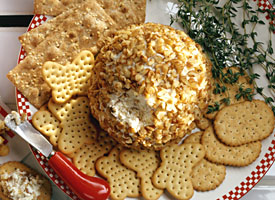 Parmesan Cheese Ball

Your guests will want the recipe for this cheesy spread filled with crunchy nuts, chopped onion and garlic flavor. The chopped nut coating makes a good thing even better.

2/3 cup grated Parmesan cheese

2/3 cup finely chopped nuts

1 small onion, finely chopped (1/4 cup )

1 tablespoon milk

1/2 teaspoon salt

1/4 teaspoon pepper

1/4 teaspoon garlic powder

2 packages (8 ounces each) cream cheese, softened

Coarsely chopped nuts


1. Stir together all ingredients except coarsely chopped nuts until well blended. Shape into ball; roll in coarsely chopped nuts.

2. Wrap cheese ball in plastic wrap and refrigerate at least 8 hours but no longer than 48 hours. Let stand at room temperature 30 minutes before serving.
Cucumber-Dill Mousse

Light, smooth and refreshing--here's a mousse not to be missed.

1 envelope unflavored gelatin

1/4 cup white wine or apple juice

2 1/2 cups finely chopped seeded peeled cucumbers (2 1/2 medium)

1/2 cup fat-free buttermilk

1/2 cup chicken broth

1/4 cup lime juice

1/3 cup chopped green onion (5 medium)

1/4 cup cholesterol-free reduced-calorie mayonnaise or salad dressing

1 tablespoon chopped fresh dill weed

or

1 teaspoon dried dill weed

1/4 teaspoon white pepper


1. Spray 4- cup mold or bowl with cooking spray. Sprinkle gelatin on wine in 1-quart saucepan to soften. Heat over medium heat about 2 minutes, stirring constantly, until gelatin is dissolved. 2. Place 2 cup s of the cucumbers and the remaining ingredients in blender or food processor. Cover and blend on high speed until smooth. Add gelatin mixture. Cover and blend 5 seconds. 3. Pour into mold. Stir in remaining cucumber. Cover and refrigerate about 4 hours or until firm; unmold.
Baked Ham with Brown Sugar Glaze (Crowd Size)

Perfect for any gathering, glazed baked ham is the centerpiece of a holiday feast, elegant brunch or birthday dinner.

6 to 8 pounds fully cooked smoked bone-in ham

Whole cloves, if desired

1 cup packed brown sugar

1 tablespoon balsamic or cider vinegar

1/2 teaspoon ground mustard

Orange slice, if desired

Maraschino cherry, if desired


1. Heat oven to 325°F.

2. Place ham, fat side up, on rack in shallow roasting pan. Insert meat thermometer so tip is in thickest part of ham and does not touch bone or rest in fat. Cover loosely and bake 1 1/4 to 2 1/4 hours or until thermometer reads 135°F (13 to 17 minutes per pound).

3. About 20 minutes before ham is done, remove from oven. Pour drippings from pan. Remove any skin from ham. Cut uniform diamond shapes on fat surface of ham. Insert clove into each diamond. Stir together brown sugar, vinegar and mustard; pat or brush on ham. Bake uncovered 20 minutes longer.

4. Cover ham and let stand about 10 minutes or until thermometer reads 140°F. Garnish with orange slices and cherries.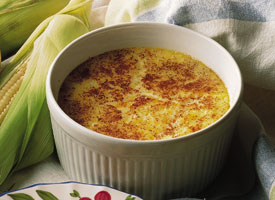 Cheesy Grits

Classic southern grits are baked to be the cheesiest!

2 cups milk

2cups water

1 teaspoon salt

1/4 teaspoon pepper

1 cup hominy quick grits

1 1/2cups shredded Cheddar cheese (6 ounces)

4 medium green onions, sliced (1/4 cup )

2 eggs, slightly beaten

1 tablespoon butter or margarine

1/4 teaspoon paprika


1. Heat oven to 350°F. Grease 1 1/2-quart casserole. Heat milk, water, salt and pepper to boiling in 2-quart saucepan. Gradually add grits, stirring constantly; reduce heat. Simmer uncovered about 5 minutes, stirring frequently, until thick.

2. Stir in cheese and onions. Stir 1 cup of the hot mixture into eggs; stir back into remaining hot mixture in saucepan. Pour hot mixture into casserole. Dot with butter; sprinkle with paprika.

3. Bake uncovered 35 to 40 minutes or until set. Let stand 10 minutes.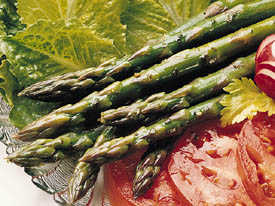 Asparagus Vinaigrette

Here's a cool change of pace from your ordinary asparagus. Enjoy chilled asparagus in a flavorful vinaigrette dressing.

1 1/4 pounds asparagus

1/4 cup waterVinaigrette Dressing (See Below)

Romaine leaves

Tomato slice

Radish roses, if desired


1. Place asparagus in square microwavable dish, 8x8x2 inches; add water. Cover and microwave on High 6 to 9 minutes or until crisp-tender; drain.

2. Pour Vinaigrette Dressing over hot asparagus, turning asparagus until well coated. Cover and refrigerate 2 to 3 hours or until chilled.

3. Just before serving, remove asparagus from dressing; reserve dressing. Arrange asparagus, romaine and tomato in separate sections on serving platter. Drizzle dressing over vegetables. Garnish with radish roses.

Vinaigrette Dressing

1 cup olive oil

1/3 cup white vinegar

2 teaspoons chopped fresh oregano leaves

or

1/2 teaspoon dried oregano leaves

1/2 teaspoon salt

1/2 teaspoon pepper

1/2 teaspoon ground mustard

2 garlic cloves, crushed

1. Shake all ingredients in tightly covered container.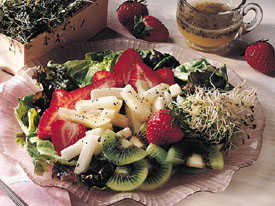 Strawberry-Jicama Toss

Fruits and veggies never looked more beautiful than when tossed with poppy seed dressing in this spectacular salad.

Tangy Poppy Seed Dressing (See Below)

6 cups bite-size pieces mixed salad greens

1/2 pint strawberry, sliced (1 cup )

1 cup finely shredded Chinese (napa) cabbage

3/4 cup 1x1/4-inch pieces peeled jicama

2 kiwifruit, peeled, cut lengthwise in half and sliced


1. Make Tangy Poppy Seed Dressing.

2. Toss dressing and remaining ingredients.

Tangy Poppy Seed Dressing

2 tablespoons vegetable oil

2 tablespoons honey

2 tablespoons orange juice

1 tablespoon seasoned rice vinegar

1 teaspoon poppy seed

2 teaspoons Dijon mustard

1. Shake all ingredients in tightly covered container.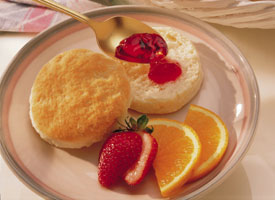 Butter Biscuits

Bet you can't say "butter biscuits" five times fast! These tender, flaky biscuits sure will disappear in a hurry.

1/3 cup butter or margarine (firm)

2 1/2 cups Original Bisquick® mix

2/3 cup milkButter or margarine, melted


1. Heat oven to 450ºF.

2. Cut firm butter into 1/4-inch pieces. Toss Bisquick mix and butter pieces with fork until coated. Add milk; stir just until milk is absorbed (do not overstir).

3. Turn dough onto surface dusted with Bisquick mix. Knead 5 times. Pat to 1/2 inch thickness. Cut with 3-inch cutter. Place on ungreased cookie sheet with sides touching for soft sides or 2 inches apart for crispy sides.

4. Bake about 9 minutes or until golden brown. Brush with melted butter.

High Altitude (3500-6500 ft) Heat oven to 475ºF. Stir 1/4 cup Gold Medal® all-purpose flour into Bisquick mix. Bake about 11 minutes.
Kentucky Pecan Pie

Hold on to your derby! This pe can pie goes beyond the original sweet, nutty delight and captures the flavors and traditions of Kentucky.

Best Flaky Pastry (See Below)

2/3 cup sugar

1/3 cup butter or margarine, melted

1 cup corn syrup

2 tablespoons bourbon, if desired

1/2 teaspoon salt

3 eggs

1 cup pecan halves or broken pecans

1 package (6 ounces) semisweet chocolate chips (1 cup )


1. Heat oven to 375ºF. Make Best Flaky Pastry.

2. Beat sugar, butter, corn syrup, bourbon, salt and eggs in large bowl with hand beater. Stir in pe cans and chocolate chips. Pour into pastry-lined pie plate. Cover edge with 2- to 3-inch strip of aluminum foil to prevent excessive browning; remove foil during last 15 minutes of baking.

3. Bake 40 to 50 minutes or until set. Cool 30 minutes. Refrigerate about 2 hours until chilled.

Best Flaky Pastry

1 cup all-purpose flour

1/2 teaspoon salt

1/3 cup plus 1 tablespoon shortening

2 to 3 tablespoons cold water

1. Mix flour and salt in medium bowl. Cut in shortening, using pastry blender (or pulling 2 table knives through ingredients in opposite directions), until particles are size of small peas. Sprinkle with cold water, 1 tablespoon at a time, tossing with fork until all flour is moistened and pastry almost leaves side of bowl (1 to 2 teaspoons more water can be added if necessary). Gather pastry into a ball. Shape into flattened round on lightly floured surface. Wrap flattened round of pastry in plastic wrap and refrigerate about 45 minutes or until dough is firm and cold, yet pliable. This allows the shortening to become slightly firm, which helps make the baked pastry more flaky. If refrigerated longer, let pastry soften slightly before rolling.. Roll pastry, using floured rolling pin, into circle 2 inches larger than upside-down 9-inch glass pie plate. Fold pastry into fourths; place in pie plate. Unfold and ease into plate, pressing firmly against bottom and side. Trim overhanging edge of pastry 1 inch from rim of pie plate. Fold and roll pastry under, even with plate; flute as desired.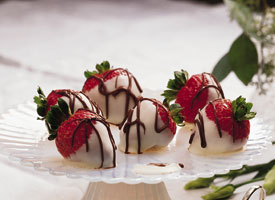 White Chocolate-Dipped Strawberries

Sweet, juicy strawberries marry with chocolate for sweet success!

1 bag(12 ounces) white baking chips (2 cup s)

1 tablespoon shortening

18 large strawberries with leaves

1/2 cup semisweet chocolate chips

1 teaspoon shortening


1. Cover cookie sheet with waxed paper. Heat white baking chips and 1 tablespoon shortening in 2-quart saucepan over low heat, stirring constantly, until chips are melted.

2. For each strawberry, poke fork or toothpick into stem end, and dip three-fourths of the way into melted chips, leaving top of strawberry and leaves uncoated. Place on waxed paper-covered cookie sheet.

3. Heat semisweet chocolate chips and 1 teaspoon shortening in 1-quart saucepan over low heat, stirring constantly, until chocolate chips are melted. (Or place chocolate chips and shortening in small microwavable bowl. Microwave uncovered on medium (50%) 1 minute; stir. Microwave 2 to 3 minutes longer, until mixture can be stirred smooth.)

4. Drizzle melted semisweet chocolate over dipped strawberries, using small spoon. Refrigerate uncovered about 30 minutes or until coating is set.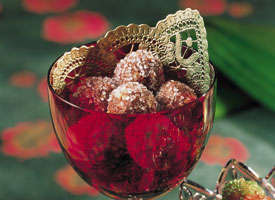 Chocolate-Bourbon Balls

Crushed wafer cookies and chopped walnuts flavor these simple spirited treats.

1/2 cup semisweet chocolate chips

2 tablespoons honey

1 1/2cups finely crushed vanilla wafer cookies (about 27 cookies)

1/2 cup ground walnuts

1 tablespoon bourbon candy decorations or sugar


1. Mix chocolate chips and honey in 1 1/2-quart microwavable casserole or bowl. Microwave uncovered on High 1 to 2 minutes or until chips can be stirred smooth.

2. Stir in crushed cookies, walnuts and bourbon. Shape into 1-inch balls. Roll balls in candy decorations.

3. Store in tightly covered container at least 4 days to develop flavor but no longer than 4 weeks.