SUPER BOWL XLIII FEB. 1, 2009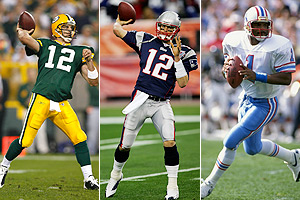 The Perfect Game Plan for a Super Bowl Party
The game is the main event, of course, and the food and drink are close behind. But there are many other details an organized hostess has to attend to.
Here are some tips:
When you make a party checklist, be sure not to forget any of the following items, which you'll need to buy, rent or borrow: coffeemaker, serving dishes (and Sterno, if you're using a chafing dish), flatware, napkins, plates, plastic and/or paper glasses and cups, pitchers, serving bowls and platters, candles.
Where are you going to put the coats? I love this idea: Install brackets for a chinning bar into a doorway, and hang the bar as a coat rack whenever you entertain. This also effectively blocks the entrance into a room that you don't want used by party guests. (If you're using any type of coat rack, don't forget that you'll need hangers.)

Is storage room in the refrigerator tight? Move condiments, jellies and other items you won't be using at party time to a Styrofoam chest with ice, or leave them outside. You can also spray cake pans with vegetable oil and make ice blocks in them, then haul your picnic cooler out of storage and pop the ice and perishables inside.

You may be planning to buy paper goods in your team's colors, or use the colors to decorate cupcakes or tint cookies or cake. Here's a quick trick to use with angel food cake mix: Spread l/4 of the batter into the pan, and sprinkle your choice of colored gelatin mix on top; repeat three times.

Another fun, decorative idea: In some specialty candy stores, you can buy M&Ms by the pound in a variety of colors and make a custom mix.
Decorate the buffet table in team colors too: Buy sequins or confetti sold by the scoop, and sprinkle them on a clear white tablecloth. Then cover the cloth with a clear plastic table covering (or buy a plastic shower liner).

Carry out the decorating theme with napkins as well. Lap-sized buffet napkins (20" square) are nice, but expensive. Save money by making your own napkins -- it's easy! Since these are for one-time-only use, don't bother hemming. Just use the nifty scissors you find in craft stores to give them a special edge.
Also make sure you've got a sufficient amount of powder-room supplies -- guest towels, soap, tissue and toilet tissue -- and that the room is stocked before the party starts.
Put Post-Its on the buffet table and in every serving dish to remind you what goes where (and to make sure you've got a serving piece assigned for every item). You may want to keep a checklist on the fridge too. There has been at least one party where I realized too late that I'd forgotten to serve some of the food!
RECIPES
Muffuletta

This sandwich is a classic New Orleans picnic favorite. It's said to be a Sicilian street food, but we've Americanized it beyond recognition. It's best made the day before you plan to serve it so the dressing can soak into the bread (make sure you wrap it well when transporting).
Prep & Cooking Time:
Yield: 8 servings


Directions:
Ingredients
For the dressing:
3 cloves garlic, finely minced
1/2 cup chopped green stuffed olives
1 cup chopped oil-cured black olives, pitted
3 pepperoncini, minced
3/4 cup olive oil
3 tbsp fresh parsley
Large pinch red pepper flakes
1/4 tsp each oregano and basil
2 tbsp white wine vinegar or balsamic vinegar
1/2 teaspoon kosher salt
1/2 teaspoon black pepper
For the sandwich:
1 large round loaf bread, about 7 inches in diameter
1 medium red onion, very thinly sliced
1/2 hothouse or English cucumber, very thinly sliced
2 Roma tomatoes, thinly sliced
2 roasted red peppers, in thick slices
1/2 lb salami, thinly sliced
1/2 lb provolone, thinly sliced
1/2 lb Havarti cheese, thinly sliced
1/2 lb prosciutto or black forest ham, thinly sliced
1/2 lb roasted turkey, thinly sliced
1/2 lb. cheddar cheese, thinly sliced
1/2 lb. mortadella, thinly sliced
1. In a medium bowl, combine the first 11 ingredients. Mix well.
2. Cut the loaf of bread in half. Using a serrated knife, carefully remove some of the bread from the inside, leaving at least 1 1/2 inches of bread all around. Pour about half of the olive mixture on the top half and about half on the bottom, reserving about 1/4 cup of the oil.
3. In a bowl, combine the reserved 1/2 cup oil with the sliced red onions, cucumbers and tomatoes and set aside. Split the roasted peppers between both halves and place on top of the olive mixture. Start layering the meats and cheeses, dividing them on both halves.
4. Layer the reserved red onions, cucumbers and tomatoes all on the bottom half. Carefully place the top half on the bottom half and close the sandwich with about 3 layers of plastic wrap. Place on a plate and weigh the sandwich down with a heavy pan and refrigerate overnight. When ready to serve, cut into wedges.
Depending on the crowd, this sandwich can feed 6 or even up to 10.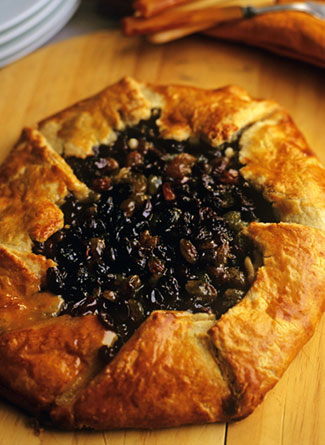 Rustic Raisin Pie

This is an old-fashioned pie that's perfectly simple and perfectly delicious. I make this pie about 20 times every fall; it's the dessert all my friends request each year.
Prep & Cooking Time:
Yield: 6 servings


Directions:

Ingredients
For the filling:
1 1/2 cups golden raisins
1 1/2 cups dark raisins
1 cup sugar
1/4 cup all-purpose flour
2 tablespoons fresh lemon juice, plus zest of one lemon
For the pie:
Basic Pie and Tart Dough, or store-bought dough
1 large egg yolk
1 tablespoon heavy cream
1. Combine the raisins in a large bowl, cover with boiling water, and allow to rehydrate for 15 minutes. Drain completely. Return the raisins to the bowl and add the sugar, flour, lemon juice and lemon zest. Mix thoroughly and set aside to thicken for 10 minutes.
2. On a piece of floured parchment paper, roll out the disc of dough into an 11-inch circle. Move the dough a quarter turn with every roll to ensure an even shape, making sure the dough is not sticking underneath. Add more flour to the rolling pin as needed. Mound the prepared filling in the center of the crust. Fold the edges toward the center, allowing the dough to overlap. There should be about a 4 to 5- inch opening in the center with the raisins exposed. Slide the parchment paper onto a baking sheet and chill the pie in the refrigerator for 30 minutes.
3. Meanwhile, preheat the oven to 425 degrees F. In a small bowl, combine the egg yolk and the cream. With a pastry brush, gently brush the crust with the egg mixture and transfer to oven. Bake for 20 minutes, then reduce the oven temperature to 375 degrees F. Bake for 25 to 30 minutes more until the crust is dark golden brown. If the crust begins to get too brown, tent with foil. Remove from the oven and allow to cool at least an hour before serving.
4. Carefully transfer the crostata and the parchment paper to a wooden cutting board and cover with foil for transporting. Cut and serve the crostata right from the cutting board.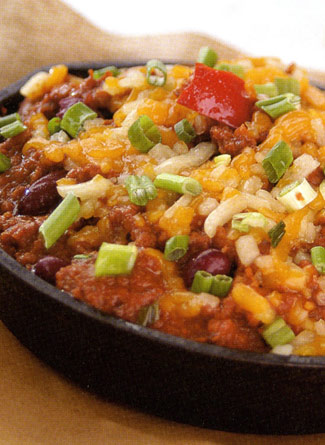 Muddy Waters Chili

This over-the-top chili recipe from Muddy Waters Smokehouse & Blues in Manitoba, Canada, packs a lot of flavor—jalapeno, dry mustard, garlic, cumin, cayenne and chili powder. It's epecially decadent because you top it with shredded cheese before serving, then bake it in the oven for a few minutes for a cheesy, gooey delight.

Prep & Cooking Time:
Yield: 1 servings
INGREDIENTS

1/2 cup shredded Monterey jack or Cheddar cheese
2 teaspoons chili powder
1/2 teaspoon ground cumin
1/2 teaspoon cayenne pepper
Salt and ground black pepper to taste
1 tablespoon canola oil
2 stalks celery, diced
Snipped fresh chives for garnish
2 cloves garlic, minced
1 yellow onion, diced
1 green bell peppers, seeded and diced
16 ounces crushed tomatoes
2 plum (Roma) tomatoes, diced
1 jalapeno chile, minced
16 ounces canned kidney beans, drained
1 tablespoon packed brown sugar
1 pound ground beef
1/2 teaspoon dry mustard


Directions:

Preheat the oven to 375 degrees F.
In a large, heavy skillet, heat the oil over medium heat and brown the beef. Add the green peppers, onion, celery, jalapeno, and garlic, and sauté until slightly tender.
Mix all the dry ingredients together in a separate bowl.
Add to the beef mixture and stir thoroughly to avoid lumps. Cook until the vegetable are tender, about 10 minutes.
Add the kidney beans, crushed tomatoes, diced tomatoes, and salt and pepper and bring to a boil. Reduce the heat to low and simmer for 1 hour, stirring occasionally.
Place in a casserole dish, top with the cheese, and bake for 5 to 6 minutes, or until the cheese is melted.
Garnish with the chives and serve.


Easy Herb Cheese Dip

This herb cheese dip takes no time at all. It is so delicious and easy to make. It is not exactly diet food, but that is what makes it so tasty! Serve it for your guests at a holiday meal.
Serving: 6
Prep Time: 20 minutes
Cook Time: 20 minutes
Total Time: 40 minutes
INGREDIENTS
8 ounces cream cheese at room temperature
2 tablespoons creme fraiche
1 tablespoon chopped fresh chervil
2 tablespoons chopped fresh thyme
1 tablespoon chopped fresh basil
DIRECTIONS
1. Beat all of the ingredients until well blended.


Quick Taco Dip

A great dip for a party table.
Serving: 10
Prep Time: 120 minutes
Cook Time: 20 minutes
Total Time: 35 minutes
INGREDIENTS
1 package taco seasoning
1/2 or light plain yogurt cup Miracle Whip Light salad dressing
1/2 cup light sour cream
1 package light cream cheese
optional salsa
shredded Garnish: lettuce
chopped Garnish: fresh tomatoes
grated Garnish: cheese
DIRECTIONS

1. Blend first four ingredients together.

2. Spread into a glass serving dish and chill, covered, for at least 2 hours to allow flavors to blend and dip to set.

3. When ready to serve, top with salsa, lettuce, tomatoes, and cheese. Enjoy!
Honey Nut Chicken Wings

Use your favorite color lentils!
Serving: 10
Prep Time: 60 minutes
Cook Time: 55 minutes
Total Time: 60 minutes
INGREDIENTS
25 chicken wings
25 chicken drumsticks
1 cup butter
1 cup honey
7 tbsp Dijon mustard
1 1/2 cups soft bread crumbs
2 cups pecans, finely chopped
salt
pepper

DIRECTIONS
1. Preheat the oven to 350 degrees.
2. Place the chicken wings on an aluminum foil covered cookie sheet.
3. Melt the butter and honey together in a small saucepan over medium heat.
4. Add the mustard and cook, stirring occasionally, for 5 minutes.
5. Brush the honey mixture all over the chicken wings and reserve the extra.
6. Sprinkle the bread crumbs and pecans on top of the chicken wings and drizzle with the remaining honey mixture.
7. Bake the wings until the meat is tender and the pecan coating is browned (about 45-50 minutes).