Tasty Tailgate Party

The best ball games include winning scores for the home team and tailgate picnics for the fans. Whether you are rooting for your high school, college, office or neighborhood team, don't forget to call "time-out" to enjoy this hearty fare. You make the choice of grilled burgers or "dogs" you can make at home and transport and serve from a slow cooker. Can't decide? Serve both and everybody will be happy!


Make It Special!

Tailgate Decor

The best thing about a tailgate party is you don't have to clean or decorate the house! You may, however, want to tidy up your vehicle and make room for collapsible tables and chairs as well as those totable treats. In the '70s, we pulled down the back of station wagons; today we're opening up the SUV or sliding open the van door. Whatever vehicle you're partying out of, a little planning makes tailgating seem effortless!

Sports-themed and colored washcloths and towels can double as tablecloths and napkins for outdoor food fare and bound-to-happen spills. Guests can take their souvenir linens home, and you can say good-bye to cleaning!


Plastic utensils are available in a rainbow of sports colors at discount, party and grocery stores.

Pregame Activities (besides munching on snacks)
Divide into teams, and make signs for team cheering (bring plenty of poster paper and markers). Award a prize for the most creative!


Have the same teams create and perform a cheer: Go, Fight, Win, Hey!


Ask guests to come dressed as their favorite player. Award a prize for the best costume.


Crank up the boom box with favorite tunes or pregame shows.


Have a checkers set with sports helmets? Bring it along, and set up a marathon contest.


Food Fixin's
Make foods self-serve. This is an informal eat-as-it's-ready party.


If budget isn't an issue, serve the cider in team logo Thermos mugs--another party souvenir, yea!


Plastic utensils offered out of a plastic helmet add an extra fun element.


Sloppy Hot Dogs is a good candidate for the slow cooker. Toss all the ingredients in a 3 1/2- to 6-quart slow cooker (you can omit the oil), and heat on high for about 3 hours. Attach large rubber bands around the handles and lid of the slow cooker to easily secure the lid when traveling. Wrap and pack it with a towel or newspaper to keep heat in and the cooker steady during transport. Serve the food (right out of the cooker) within an hour, or plug in the cooker and set it on the low heat setting so it will stay warm for hours.


For a cooler that matches the party theme, purchase a football-shaped toy chest (available at large toy stores and some department stores), or decorate the top of your cooler with construction paper to look like a ball field!


Keep cool things cool and hot things hot. Pack hamburger patties frozen; they'll keep other foods cool and will be thawed by the time the grill is ready. Remember to pack the burger trimmings

.

Preparation Guide


The Day Before
Make Chex® Barbecue Snack Mix

Make Easy Peanut Butter Swirl Brownies

When cool, cut into bars for easy removal on game day.

Make Savory Spinach Dip

Prepare veggies to go with dip; store in totable serving containers

Make Marinated Vegetable Salad store in totable serving container

Set aside an area in your house or garage for gathering nonperishable items for packing; make a list of what needs to go in the vehicle. Remember serving utensils and grilling tools.


About 4 Hours Before Leaving
Make Sloppy Hot Dogs in a slow cooker as directed in Food Fixin's tip

Pack the vehicle with nonfood items.


About an Hour Before Leaving
Make Warm Cinnamon-Orange Cider(the larger the quantity, the longer the heating time will be); place in Thermos just before leaving.


Just Before Leaving
Pack the vehicle with food items, leaving cold items until last

.

At the Party Site
Fire up the grill.

Set out the snacks and Thermos of cider.

While Grilled Nacho Cheeseburgers are grilling, set up the dining area by draping team towels and adding nonfood items.

Set out the side dishes when the burgers are ready.

Give a team cheer and start the eats.

Tasty Tailgate Party Menu

Warm Cinnamon-Orange
Chex® Barbecue Snack Mix
Savory Spinach Dip
Cut-up veggies
Grilled Nacho Cheeseburgers
Sloppy Hot Dogs
Marinated Vegetable Salad
Chips
Easy Peanut Butter Swirl Brownies
Canned beverages


RECIPES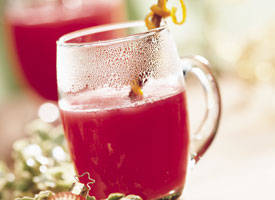 Warm Cinnamon-Orange Cider

As if by magic, the cinnamon candies melt, giving this spiced cider a rosy glow.

1/2 bottle (64-ounce size) apple cider

2 cups orange juice]

2 tablespoons red cinnamon candies

1 1/2 teaspoons whole allspice

1 tablespoon plus 1 1/2 teaspoons honey


1. Heat apple cider, orange juice, candies and allspice to boiling; reduce heat. Cover and simmer 5 minutes.

2. Remove allspice. Stir in honey. Serve warm.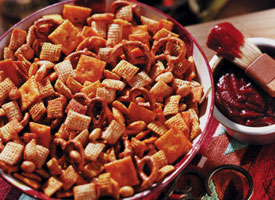 Chex® Barbecue Snack Mix

Need something to munch on while grilling in the backyard? Need a great snack for a video marathon? This recipe fills the bill!

3 cups Rice Chex® cereal

3 cups Corn Chex® cereal

1 1/2 cups small pretzel twists

1 1/2 cups bite-size cheese crackers

3/4 cup honey-roasted peanuts

1/2 cup barbecue sauce

1 tablespoon vegetable oil

3/4 teaspoon onion powder

3/4 teaspoon garlic powder


1. Stir together cereals, pretzels, crackers and peanuts in large microwavable bowl; set aside. Stir together remaining ingredients until blended. Pour over cereal mixture in bowl, stirring until evenly coated.

2. Microwave uncovered on High 10 minutes, stirring every 3 minutes. Spread on aluminum foil or paper towels to cool. Store in airtight container.

IMPORTANT: Because microwaves cook differently, time is approximate.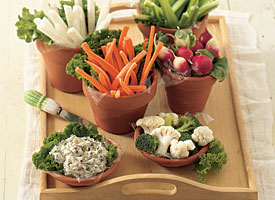 Savory Spinach Dip

This flavor-packed dip is perfect potluck fare. Surrounded by colorful veggies and crispy crackers, it's almost as good to look at as it is to eat!

2 packages (10 ounces) frozen chopped spinach, thawed

1 can (8 ounces) water chestnuts, drained and finely chopped

1 cup sour cream

1 cup plain yogurt

1 cup finely chopped green onion (9 medium)

2 teaspoons chopped fresh tarragon leaves

or

1/2 teaspoon dried tarragon leaves

1/2 teaspoon salt

1/2 teaspoon ground mustard

1/4 teaspoon pepper

1 garlic clove, crushed

Rye crackers, rice crackers or raw vegetables for dipping, if desired


1. Squeeze excess moisture from spinach until it is dry. Mix spinach with remaining ingredients except crackers in glass or plastic bowl

2. Cover and refrigerate 1 hour to blend flavors. Serve with crackers.
Grilled Nacho Cheeseburgers

Fire up the grill and get ready for a zesty burger taste. You won't wait long; these burgers take only minutes to cook.

8 frozen lean ground beef patties

1/2 to 1 teaspoon garlic pepper

1/2 cup mild or spicy nacho cheese sauce

8 green onions, sliced

8 hamburger buns, split and toasted


1. Heat coals or gas grill for direct heat.

2. Sprinkle 1 side of each frozen ground beef patty with garlic pepper.

3. Cover and grill patties, pepper side up, 4 to 5 inches from medium heat about 10 minutes for medium doneness, turning once. During last minute of grilling, spoon 1 tablespoon cheese sauce onto each patty; spread slightly. Cover and grill until cheese sauce begins to melt.

4. Sprinkle with onions. Serve on buns.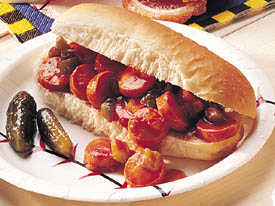 Sloppy Hot Dogs

Kids love 'em! Two of their favorites in one, sliced hot dogs in an easy homemade sloppy joe sauce.

1 tablespoon vegetable oil

1/2 cup chopped green bell pepper

1/3 cup chopped onion

1/2 cup barbecue sauce

1 can (8 ounces) tomato sauce

1 pound hot dog, cut into 1/4-inch slices

8 hot dog or hamburger buns, split


1. Heat oil in 10-inch skillet over medium heat. Cook bell pepper and onion in oil, stirring occasionally, until onion is tender.

2. Stir in barbecue sauce, tomato sauce and hot dogs. Simmer uncovered 10 minutes, stirring occasionally. Fill buns with hot dog mixture.
Marinated Vegetable Salad

Refrigerating this veggie medley in a purchased dressing and topping with bacon bits creates a fantastic flavor!

1/2 cup sliced fresh mushrooms

3 small zucchini, cut into 1/4-inch slices

2 medium tomatoes, coarsely chopped

1 medium onion, sliced and separated into rings

1/2 cup Italian dressing

6 tablespoons Betty Crocker® Bac~Os® bacon flavor bits or chips


1. Mix all ingredients except bacon flavor bits in large bowl.

2. Cover and refrigerate at least 2 hours, stirring occasionally.

3. Just before serving, spoon vegetable onto 6 salad plates, using slotted spoon. Sprinkle each with 1 tablespoon bacon flavor bits.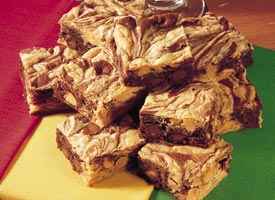 Easy Peanut Butter Swirl Brownies

You're only a brownie mix away from this quick and easy cream cheese indulgence!

1 package Betty Crocker® Supreme chocolate chunk brownie mix

3 tablespoons water

1/2 cup vegetable oil

2 eggs

1/2 cup peanut butter chips

1 package (3 ounces) cream cheese, softened

1/4 cup sugar

1 egg


1. Heat oven to 350ºF. Grease bottom only of rectangular pan, 13x9x2 inches.

2. Stir brownie mix, water, oil and 2 eggs in medium bowl about 50 strokes or until well blended. Spread 2/3 of the batter in pan.

3. Microwave peanut butter chips in small microwavable bowl on High 30 seconds or until chips are melted when stirred. Stir in cream cheese, sugar and 1 egg until smooth.

4. Spread peanut butter mixture over batter in pan. Drop remaining batter by tablespoonfuls onto peanut butter mixture; swirl lightly with spatula for marbled effect.

5. Bake 30 to 34 minutes or until toothpick inserted 2 inches from side of pan comes out clean or almost clean. Cool completely for easier cutting. For 18 brownies, cut into 6 rows by 3 rows. Store tightly covered.

High Altitude (3500-6500 ft) Stir 3 Tablespoons all-purpose flour into brownie mix (dry). Increase water to 1/4 cup; decrease oil to 1/3 cup.