Fourth of July Blast


Make your fireworks on the grill with these easy recipes that really sizzle.

Make It Special!

Red, White and Ooh! Serving Ideas
Celebrate with a star-spangled appetizer made by topping a block of cream cheese with your favorite salsa and fresh blueberries. Serve with crackers.


Tuck toothpicks that have miniature Ameri can flags attached into the burgers or shortcakes.


Simplicity reigns with a centerpiece bouquet of red, white and blue flags. These can become take-home souvenirs and used during the parade.


Make personalized flags by attaching red squares of fabric to wooden dowels. Using fabric markers, identify your own event with the date.


Declaration of Fun Ideas
Red, White and Balloon Toss: Pair up, and stand facing a partner. Toss a water-filled balloon to your partner who catches the balloon. Continue tossing and catching, stepping back a foot after each successful catch. The winner is the pair who have stepped back the farthest without having the balloon burst.


Strike up the Band: Create an old-fashioned kitchen band complete with kazoos, washboards, pan lids for cymbals and waxed paper-covered combs. You may want a portable boom box handy with some genuine marching music in case the giggles take over!


Red, White and Beans: Fill a huge jar with red, white and blue jelly beans. Have guests write down their guess on how many beans are in the jar. The closest guess wins a prize--the jar of beans!


Declare your sizzling party an historical success. Make a memory album of the event with photos, guest list and quotes or funnies. Vow to make it an annual event, passing along the host/hostess duties and the memory book duties, as well.


Preparation Guide


Up to 2 Days Ahead
Make shortcake dough for

Red, White and Blue Shortcake Stars Place cut dough on cookie sheet; wrap and freeze.


Mix sugar and juices for

Pineapple Limeade refrigerate covered. (If you're expecting a really hot day, prepare extra limeade or have other beverages available.)


The Morning Of
Thaw shortcakes in refrigerator; bake.


Make

Slow Cooker Baked Beans

Shape patties for

Cheese-Stuffed Turkey Burgers ; cover and refrigerate.


Prepare strawberries for shortcakes.


Make dressing and prepare greens for

Garden Salad with Honey French Dressing store covered in refrigerator.


1 to 1 1/2 Hours Before Meal
If using charcoal grill, heat grill.


As Guests Arrive
Stir sparkling water into beverage juices; serve over ice.


About 1 Hour Before Meal
Prepare corn for

Grilled Spicy Corn .


About 30 Minutes Before Meal
Grill corn

.


About 20 Minutes Before Meal
Grill burgers

.


About 15 Minutes Before Serving Dessert

Mix blueberries with strawberries; split shortcakes and fill.


Fourth of July Blast Menu


Cheese-Stuffed Turkey Burgers

Grilled Spicy Corn

Slow Cooker Baked Beans

Garden Salad with Honey French Dressing

Red, White and Blue Shortcake Stars

Pineapple Limeade

Cheese-Stuffed Turkey Burgers

Take a break from traditional burgers. Lots of spicy chilies, Monterey Jack cheese and salsa mix with ground turkey breast for burgers to serve a crowd.

3 pounds ground turkey breast

1 to 2 jalapeño chili, seeded and chopped

1 cup diced Monterey Jack cheese with jalapeño peppers

3/4 teaspoon pepper

1 1/2 cups Old El Paso® Thick 'n Chunky salsa

12 hamburger buns, split and toasted

12 slices tomatoAdditional Old El Paso® Thick 'n Chunky salsa, if desired


1. Heat coals or gas grill. Mix turkey, chilies, cheese, pepper and 1 1/2 cups salsa. Shape mixture into 12 patties, each about 3/4 inch thick.

2. Cover and grill patties 4 to 6 inches from medium heat 12 to 15 minutes, turning once, until no longer pink in center.

3. Serve on buns with tomato slices and additional salsa.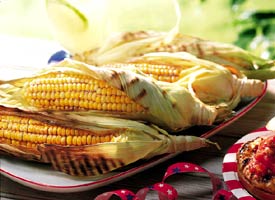 Grilled Spicy Corn

Grilled corn on your menu? Try this zesty version of an all-Ameri can favorite.

2 tablespoons butter or margarine, melted

4 ears corn with husks

1 tablespoon Old El Paso® taco seasoning mix or Lemon pepper


1. Heat coals or gas grill for direct heat.

2. Mix butter and taco seasoning mix. Carefully pull back husk of each ear of corn; remove silk. Spread butter mixture over corn. Pull husks back over ears; tie husks securely with thin piece of husk or string.

3. Cover and grill corn 4 to 5 inches from medium heat 20 to 30 minutes, turning frequently, until tender.
Slow Cooker Baked Beans

Don't heat up the whole house for baked beans--slow cook them! Get the same spicy brown sugar taste, and let your slow cooker take the heat.

3 cans (28 ounces each) vegetarian baked beans, drained

1 medium onion, chopped (1/2 cup)

2/3 cup barbecue sauce

1/2 cup packed brown sugar

2 tablespoons ground mustard


1. Mix all ingredients in 3 1/2- to 6-quart slow cooker.

2. Cover and cook on low heat setting 4 to 5 hours (or high heat setting 2 hours to 2 hours 30 minutes) or until desired consistency.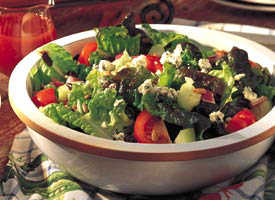 Garden Salad with Honey French Dressing

Crisp cucumbers, sweet raisins and flavor-packed blue cheese-this salad has it all!

Honey French Dressing (See Below)

6 cups bite-size pieces romaine or red leaf lettuce

1/2 medium cucumber, peeled and chopped (2/3 cup)

1 medium tomato, chopped (3/4 cup)

1/4 cup chopped red onion

1/4 cup raisins

2 tablespoons sunflower nuts

2 ounces blue cheese, crumbled


1. Make Honey French Dressing

.2. Toss romaine, cucumber, tomato and onion in large bowl. Sprinkle with raisins, nuts and cheese. Serve with dressing.

Honey French Dressing

1/3 cup ketchup

3 tablespoons seasoned rice vinegar

2 tablespoons honey

1 tablespoon vegetable oil

1 tablespoon water

1. Stir together all ingredients in large bowl.
Red, White and Blue Shortcake Stars

Celebrate with strawberry, blueberry and whipped cream shortcakes, family fun for patriotic holidays or any occasion.

1 1/2quarts strawberries, sliced (6 cups)

1 1/2 cups granulated sugar

4 2/3 cups Original Bisquick® mix

1 cup milk

1/2 cup chopped dried cherries

6 tablespoons granulated sugar

6 tablespoons butter or margarine, melted

2 cups blueberries

3/4 cup whipping (heavy) cream

2 tablespoons granulated or powdered sugar


1. Mix strawberries and 1 1/2 cups sugar. Let stand 1 hour.

2. Heat oven to 425ºF. Mix Bisquick mix, milk, cherries, 6 tablespoons sugar and the butter until soft dough forms.

3. Gently smooth dough into ball on surface sprinkled lightly with Bisquick mix. Knead 10 times. Roll dough 1/2 inch thick. Cut with floured 3-inch star-shaped or round cutter. Place about 1 inch apart on ungreased cookie sheet. Bake 10 to 12 minutes or until golden brown.

4. Stir blueberries into strawberries. Beat whipping cream and 2 tablespoons sugar in chilled medium bowl with electric mixer on high speed until stiff. Split shortcakes in half. Fill and top with berries and whipped cream.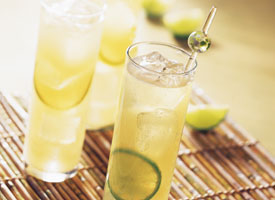 Pineapple Limeade

You may never return to regular lemonade after you try this refreshingly fruity cooler.

1 cup sugar6 cups pineapple juice, chilled

1 cup lime juice

2 liters sparkling water, chilled

Lime slice, if desired


1. Mix sugar and juices in large plastic or glass pitcher. Pour half of mixture into another pitcher.

2. Just before serving, stir sparkling water into juice mixture. Serve over ice. Garnish with lime slices

.